Effective Marketing In A Digital World
PO-TAY-TO PO-TAH-TO
Urghhhhhh…. Not exactly.
It is not the same thing.
There is Traditional Marketing and there is Endorsed Marketing;
There is Traditional Advertising and there is Endorsed Advertising;
There is Virtual Advertising and there is Endorsed Virtual Advertising;
There is Digital Marketing and there is Endorsed Digital Marketing;
There is Social Media Marketing and there is Endorsed Social Media Marketing;
No! It is not a one-size fit all plan;
Every client is different;
No two needs are the same;
Our way is different;
We will treat each customer exactly like a King. A king gets what the king wants.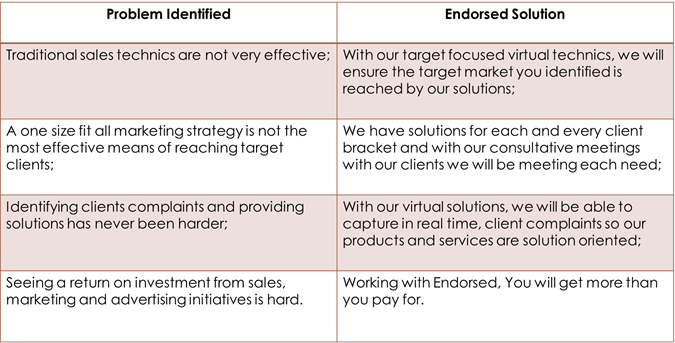 Best Practices?
Yes! Of course!
But Nooooo! Not This Time!
We want to make it worth every penny, For YOU.
We will work with each client differently;
Account managers dedicated to each client to understand everything that pertains to their business:
Characteristics of the Products / Services
The Target Clients;
The Business Process;
The Challenges Faced So Far;
Sales Targets
Approach the exact clients they want. Making sure to approach each client in his/her comfort zone.
Not disruptively but delicately effective to speak to them in just the way they will respond.
Identify their needs and voila!
Create a link of two people who needed to meet each other…
Endorsed – The Brand Promoter
Are You Positive Your Brand Is Ready To Get To The Market?
Get In Touch
(237) 671910302 info@endorsedbrand.com